Earth Runners FAQ
avril 19, 2022
La traduction de cette page est en cours, merci pour votre patience. Vous pouvez vous référer à cette version anglaise en attendant.
Tips and Troubleshooting
We encourage people to go with a snug fit like you see in this diagram here.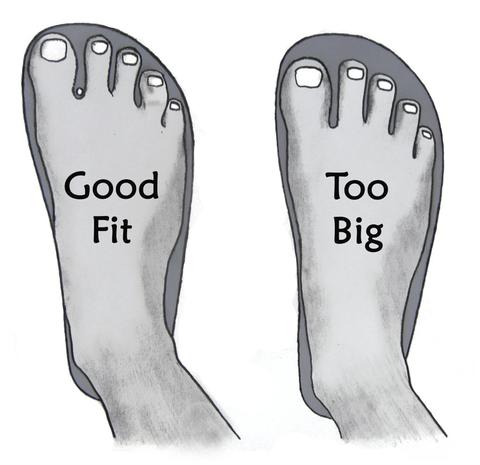 This enhances the minimalist experience and reduces the chance of catching debris in your sandals while out on the trail.
Shoes are one of the most intimate articles of clothing we use on a daily basis and we understand your dilemma in trying to order the perfect size. We have heard the questions asked in every combination: What size should I get? How should the sandals fit? Does this size fit me? Is this size too big? Is this the right size? What do you think of this size on me? Is this how it is supposed to fit? Which size looks best?
The Earth Runner sandals are true to size, a snug fitting shoe size should correlate with snug fitting sandals in the same size. On our sizing page you can print out our sizing templates in actual size to compare with your foot and confirm your fit.
Because Earth Runner sandals don't have upper material (i.e. the parts of a shoe that cover the toes, the top of the foot, etc) your feet can cover much more of the sandal's surface without bumping into any upper material. If you don't like your shoes to fit snug you will most likely need a smaller sandal size than your shoe size. Printing out templates from our size chart it's the only way to be 100% sure of your fit before ordering.
Measure the length of your foot from the tip of your longest toe to the back edge of your heel and refer to the LENGTH column of the sandal sizes on our chart:
1. Select a size 1/4" shorter than your foot length for a SNUG fit.
2. Select a size 1/8" shorter than the length of your foot length for a MEDIUM fit.
3. Select a size the same length as your foot for a bit of a BUMPER around the perimeter of your foot.