Think about the last time you felt stressed or anxious, or had trouble falling asleep. Along came a good friend or family member and gave you a great big hug. Your stress and anxiety melted away, and perhaps a good cuddle put you right to sleep! Weighted blankets can give you that same experience.
How Weighted Blankets Work
In our busy modern world, stress and anxiety are on the rise—76% of people express physical and psychological symptoms caused by stress. Hush blankets have been proven to reduce stress and anxiety by activating our body's natural response to compression and touch. Hush blankets reduce cortisol (stress hormones) with Deep Touch Pressure Stimulation (DTPS) to release serotonin (happy hormones) and melatonin (sleep hormones). HUSH weighted blankets are 3-5x times heavier than regular duvets and using one is an effective way to reduce anxiety and stress—helping you fall asleep faster and sleep even deeper.
Benefits Of Hush Weighted Blankets
There are many benefits of using a weighted blanket. They have been known to help with:
stress
anxiety
sleep anxiety
insomnia
ADHD
OCD
sensory processing disorder
general sleep trouble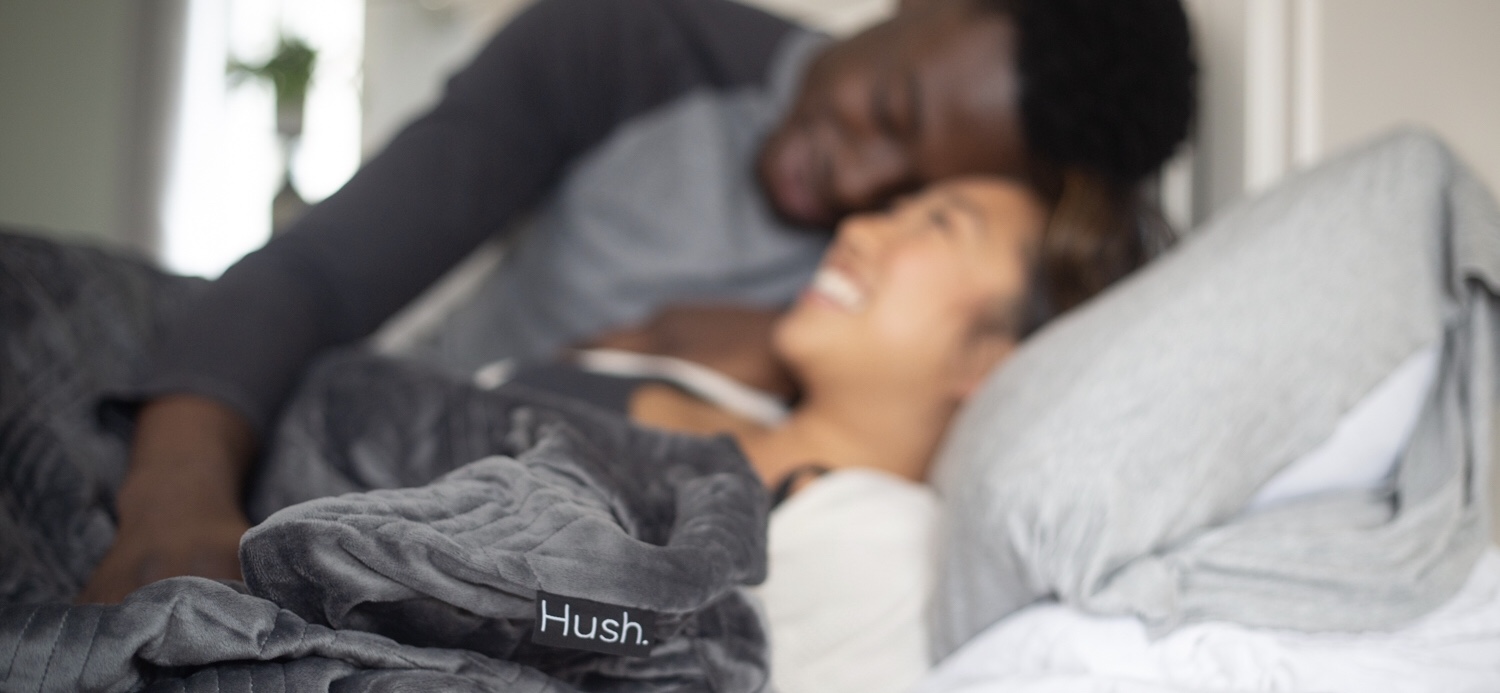 The health benefits of weighted blankets are backed by science!
This study from SciMedCentral found that sleep time increased while movement during sleep decreased when participants used a weighted blanket. Participants found it easier to settle down, fall asleep, and felt more refreshed in the morning.
The American Occupational Therapy Association studied the benefits of DTPS and has shown to occur even in short periods of being under a weight. Sympathetic arousal decreased while parasympathetic arousal increased. This led to improved performance on a test after being under the weight.
We are so confident in the benefits of HUSH blankets that we offer a 100-day guarantee.
Try your HUSH blanket for 100 days, and if you aren't convinced, we will easily accept your return and provide a full product refund.
Get your HUSH blanket now and start receiving a better night's sleep! SHOP NOW >